From (my beloved) Shelf Awareness: Cookies and Pretzels and Wine, Oh My!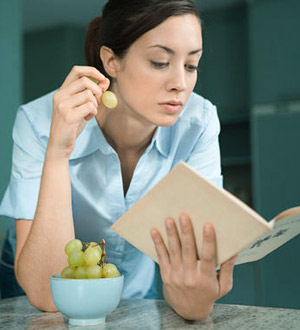 Response to our
editorial about snacking
was overwhelming, with salty snacks taking a slight edge over sweet. While we were mildly shocked at the librarians who eat and read, we were pleased with the suggestions we hadn't already thought of. For your reading and snacking pleasure, here are just some of the many comments we received.
Eliza Langhans sent a great line to begin with, from Amanda Filipacchi's novel
Nude Men
:
"I am a man without many pleasures in life, a man whose few pleasures are small, but a man whose small pleasures are very important to him. One of them is eating. One reading. Another reading while eating."
ME

:

I don't eat while reading, though I do drink--usually tea. It seems I may be missing out, but if I did start to snack on the page, my waistline would be even thicker than it is now! Do you snack while scanning stanzas or coursing through chapters? If so, what's your nibble of choice?
And now for a brief word from our sponsors: I'm off on vacation, as it's "Spring Break" in these parts. Look for a resumption of regular programing on Friday April 6th. Till then, happy snacking!